Thursday, May 22, 2008
Last night Rosemary and I went to the Stanley Industrial Alliance Theatre for an Arts Club Theatre Company opening night performance of the Mel Brooks musical,
The Producers
. Rosemary told me, I prefer serious theatre." I said nothing because after 40 years of marriage I have finally learned to keep quiet.
But I would have told her, "Sometimes it's nice not to have serious theatre. Sometimes it's nice to laugh." I would have told her that as an Argentine I have never understood the North American (and English?) concept of the musical where people who are talking to each other suddenly begin to sing. Give me opera or give me a movie. That I understand. But while I will not often admit it, I love musicals even if I don't quite understand them. Watching Gene Kelly dancing on a stage floor of newspapers in
Summer Stock
is where I finally caught on.
I love musicals and I have been getting tired seeing them in the Turner Classic Movies channel. Seeing a musical on stage, in a smallish theatre up front, is watching a musical the way it should be watched.
I could find no fault with the Arts Club Theatre Production. My serious wife laughed lots and so did I. The performances of the two producers, Max Bialystock (Jay Brazeau) and Leopold Bloom (Josh Epstein) were funny. In the end, when Josh Epstein (the proverbial shmuck) returns with the voluptuous Ulla (Terra C. MacLeod) from Rio to appear at court to defend Bialystock, I was awed by his transformation. He was suddenly a confident Al Pacino.
But I laughed the most at Jackson Davies who played the playwright Franz. He was terrific and more so because I had run into him a couple of weeks ago at the Arts Club on Granville Island, "How are you Alex? How have you been? I have not seen you for a long time." It is moments like those when I really believe that even though I was born somewhere else I am from Vancouver and Vancouver is my city.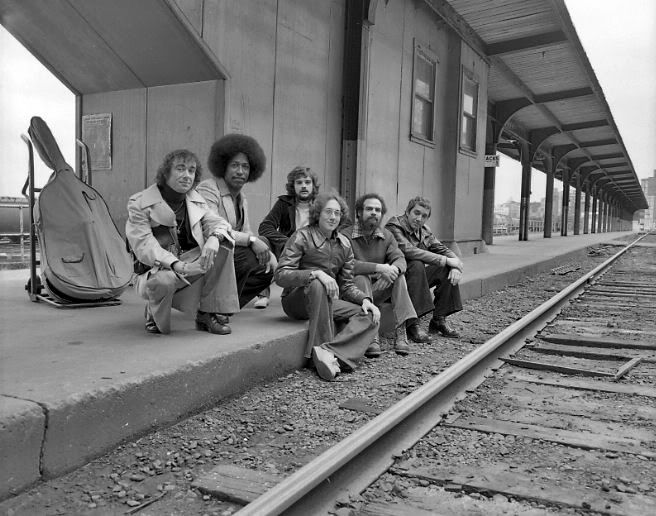 It was also a delight to see bassist Rene Worst in the orchestra. It is the first time I have seen him with clipped gray hair. I was not aware he carried a hip flask. In the photograph here, taken some 30 years ago, that's Rene, third, from left on the top row. Next to him is conga player Albert St Albert and alto saxophonist Gavin Walker. On the bottom row from left to right, its Gerry Silver, Bruce Freedman and Al Wold. I took this photograph for
Vancouver Magazine
to illustrate an article on live music. The location for the photograph is the platform of the CP train station.
I used to listen to Worst and
Walker
play at the Classical Joint on Thursdays. The Joint is gone but it is comforting to know that Bill Millerd is happily directing plays (he directed this one) and thanking his sponsors in the opening night of every Arts Club Theatre Company play. It is a Vancouver ritual of sorts. Enjoying the company of my wife at the theatre is becoming a ritual of sorts, too.