Un Verde ( A Green One)
Monday, August 28, 2006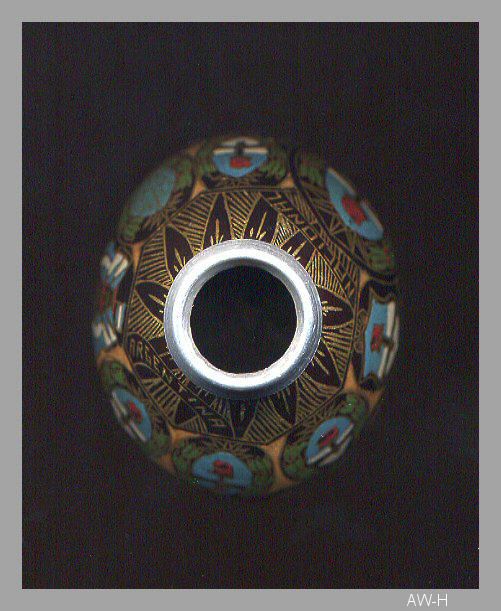 I previously touched on this subject a few months back:
El Mate
but with Juan Manuel Sanchez and Nora Patrich in Buenos Aires until December I cannot drink a mate by myself. It is a social drink. So I must write about it.
When I cradle my father's 75 year-old mate in my hand and sip the hot and bitter tea my imagination takes me away from Vancouver to the middle of a the Argentine pampa where the horizon is never broken by anything except maybe an Ombú, under whose shade a mate may best be enjoyed.
Ilex paraguayensis
is a South American relative of the common holly. The bush grows in Paraguay, Southern Brazil and Northern Argentina. In the beginning of the 16th century the Jesuits, who were proselytizing in what today is Paraguay, watched native Guaranis sip a hot tea from gourds using a hollow reed. Since this happened with great frequency the Jesuits decided the tea was a drug and tried to ban it by even threatening excommunication. But it didn't take long for the crafty Jesuits to figure out that the beverage, called mate (the gourd and the herb are both called mate) and made from yerba mate would enable the Indians, they often overworked, to keep on going during the day without much sustenance as long as they were given their "mate breaks".
In my two year stint as a conscript in the Argentine navy during the mid 60s I learned to tolerate and eventually enjoy a beverage that Argentines call
mate
cocido
or boiled mate. The tea is boiled for hours with milk and lots of sugar. The thick concoction resembles swamp water and the taste is definitely one to be acquired. At 6 AM at our barracks at the Arsenal Buenos Aires (in the very spot where the captain of the German battle cruiser Admiral Graf Spee, Hans Langsdorff shot himself in 1939) we were served mate cocido and galleta, a hard unleavened bread. This sparse breakfast kept us on our feet until lunch late in the afternoon.
It has taken some time for North Americans and Canadians to catch up to the Society of Jesus and to catch on that mate is a hunger suppressant.
But mate will never replace either coffee or tea in North America. This is because drinking mate is a combination of social pastime and a tertulia where the one mate is passed around (usually in a clockwise direction) and gatherers converse. While people collect mates (the gourds) only one is used at any given time no matter how many guests are around. It is rude to wipe the silver bombilla or straw once the mate has been drunk by someone else. The mate is passed back to the person in charge, the cebador; hot water is poured and the mate is passed back to you. Canadians would surely call this unhealthy.
Until about 20 years ago the mate was placed on a table with a container of yerba (the tea itself which is the whole chopped bush so there are leaves and bits of the stalk called palo) and a little
pava
or kettle would be brought in from the kitchen. There would be an option of bringing a sugar dish but most purists disdain the use of sugar in a mate. It was the more practical Uruguayan mind that figured out the use of thermos for carrying the water (it has to be hot and not quite boiling). This freed the mate drinker from the pava. So now, on Uruguayan or Argentine beaches, football matches and young couples in parks can be seen with their mate and thermos.
On any given day I may get a call from my Argentine friends, Juan Manuel Sanchez and Nora Patrich. Juan might say, "¿Un verde?" I am out of the house like a shot.