A Dog & Peter Bentley
Saturday, October 14, 2006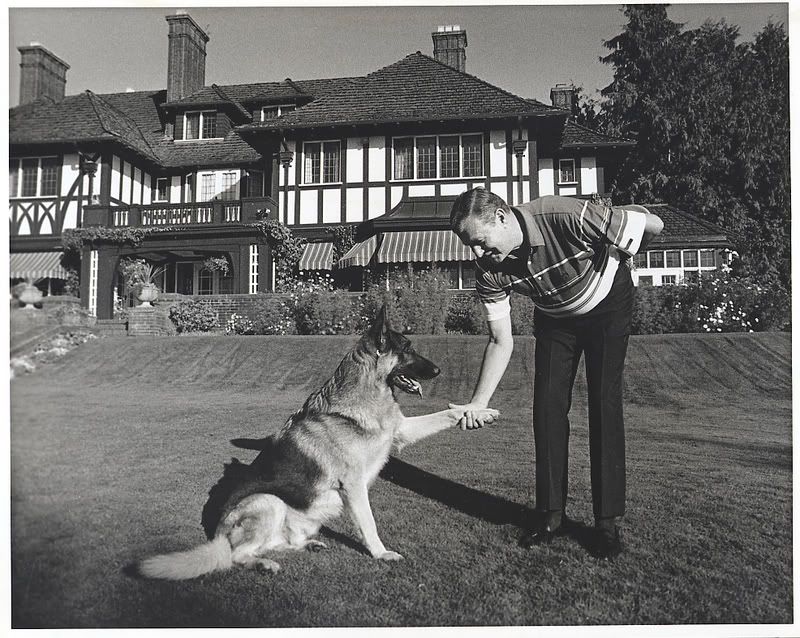 In the 80s and early 90s being in business was a respected profession. Business magazines proliferated and profited from an interest in all things executive. In those 80s I made enough money to buy a house that I certainly could not buy now. In those early 80s I photographed tons of executives with my camera low to make them look even more powerful. In the early 90s things began to change and one of the first persons to notice that change was Equity Magazine (a Vancouver magazine founded and edited by Harvey Southam) art director Chris Dahl. Every year I was assigned to photograph what Equity called the Power Elite. I would have to photograph the most important businessmen (including the then token woman called the "Ball Bearing Queen") with photo set ups that would make them look powerful and almost intimidating.
"This year," Chris Dahl told me, "I want you to use no lights, use a small camera and photograph these guys playing."
Here is one example of CANFOR CEO Peter Bentley playing Frisbee with his dog in the backyard of his Southwest Marine Drive home. I cannot help but think that Chris Dahl had a special talent to see what was coming before anybody else.