Harry Nomura - Larix kaempheri
Tuesday, November 21, 2006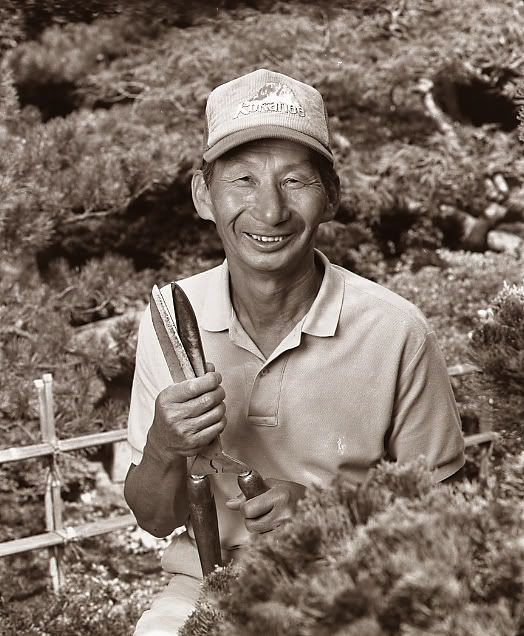 When Rosemary and I moved to our present home on Athlone Street in 1986 me moved to a house with a large garden in total ignorance. The previous owners had relied on Harry Nomura to take care of the garden. Nomura had been doing the gardens of our neighbourhood for a long time and when he retired (his eyes were giving out) in 2000 I would guess he had been at it for over 50 years. Nomura always looked younger than he was. In a short time Rosemary and I realized we could not afford Nomura except for the needed spring and fall cleanups and the clipping of tall trees. We had to do the rest if we were going to pay our mortgage. And that's how the both of us got into gardening. But for a long time Rosemary would correct anything I would be doing in the garden with a, "Alex, Harry would not do it that way."
Eleven years ago I purchased a 5 ft
Larix Kaempheri
(Japanese larch) at the VanDusen spring plant sale. When I was leaving the garden with the tree in my wheelbarrow, VanDusen curator, Roy Forster looked at tree and then at me. He said, "It's going to be big." He was right. The tree has been growing a meter per year and has surpassed in height the Lawson Cypress behind it that it will replace as soon as the dying Lawson Cypress finally dies. The Lawson Cypress has hung on.
One day in 1999, around this time of the year, Harry saw my larch and told me, "Tree dead."
Our conversation after that went like this:
"Tree not dead."
"Tree dead"
"If tree not dead you do garden free."
"Tree not dead."
In about a week or so all the needles will fall within hours. When I bought the tree, Roy Forster warned me of its eventual size, but he never told me that my evergreen wasn't. In the photo here you can see what my larch looked like yesterday