Rhododendron racemosum
Wednesday, March 15, 2006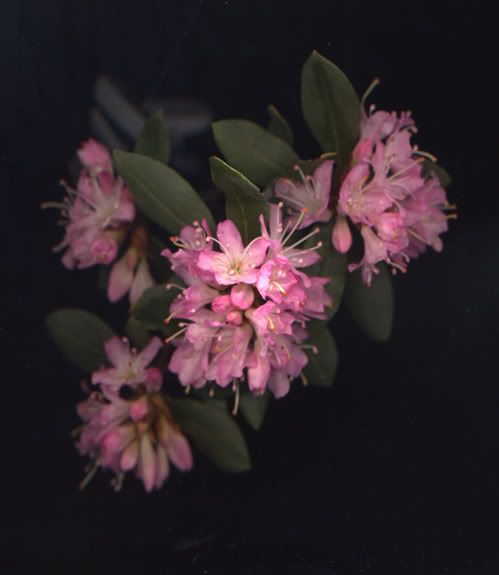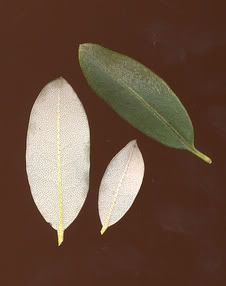 By the first week of March my 5 ft tall
Rhododendron racemosum
is in bud and by the 14 it is in full bloom. You can see above a raceme that I scanned yesterday. This little guy (the leaves are no larger than 4 cm) is from Yunnan, Sichuan and Guizhou provinces in China. French missionary Père Delavay introduced it to the West in 1889.
Rhododendron racemosum
is a lepidote (scales on the underside of its leaves) from the Subsection Scabrifolia. In Vancouver there are still too many bright or lurid colour hybrids that were in fashion 40 years ago and few realize that there are fragrant rhododendrons (
Rhododendron loderi
'King George' smells like a ripe watermelon) , rhododendrons that can grow in Yellowknife or that azaleas have been promoted and are now classified as rhodos. For me the most interesting feature of a rhododendron is its leaf. There are leaves that can be over a foot long (
R.falconeri
) and there are leaves no bigger than the nail of the little finger. In cold weather the leaves of some rhododendrons retract downwards like an angry cat. For years I never noticed a feature of my racemosum which many rhodos have. This is the indumentum (the coating on the back of a leaf). The indumentum can be bright red, brown, white, metalic blue and the texture can be like fine white sandpaper (as in my racemosum) or it can be as smooth as the inside of a cat's ear. When my wife Rosemary and our granddaughter Rebecca walk in VanDusen or at the UBC Botanical Garden, which is supposed to have one of the largest rhododendron collection in North America, we like to inspect the underside of the rhododendrons. Rebecca is always delightfully surprised.
UBC Rhodos
indumentum